FAMILY PACKAGE
June 26th 2023 to August 18th 2023
For the parents,
finally
a
worry-free
vacation!
For the children,
unforgettable
adventures with the
Kids' Club
.
For the teens,
outdoor activities
and
discoveries
are on the program.
For the whole family,
memorable
souvenirs.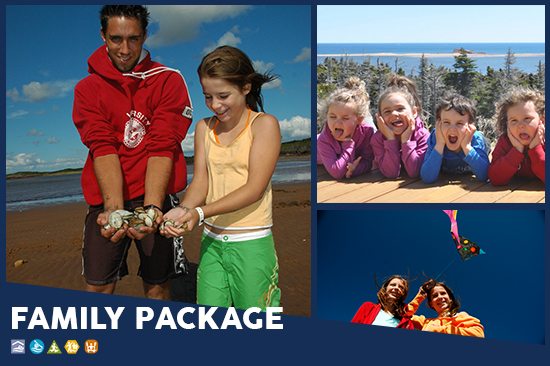 THE PACKAGE INCLUDES (minimum stay of 2 nights):
LODGING IN A COUNTRY-STYLE ROOM [+]
BREAKFAST AND MADELINOT DINNER [+]
FOR THE CHILDREN (5-12 YEARS)

Sand castle construction, kite building, arts and crafts and other secrets await at the Kids Club (from June 26 to August 18 2023).
FOR THE TEENS (13-17 YEARS)

Freely available: Bicycles, kayaks, canoes or pedal boats. Come and experience the incredible sensation of the caves or surf kayaking ($, 14 y/o and older).
FOR THE PARENTS

Take a well deserved break and enjoy all the advantages that the Salicorne package offers.

2023 RATES* (per person & per night, taxes not included)
including : LODGING • BREAKFAST & SUPPER• THE KIDS CLUB


Age

MAY 19-31 & OCT. 1-9

JUNE - SEPTEMBER
2-8 y/o
$52
$72
9-17 y/o
$92
$112
Less than 2 y/o
FREE
FREE
NOTES



*

Minimum stay of 2 nights.

** Parents are welcomed. See the adult rates.