MARITIME FLAVORS ON THE SPOTLIGHT
Come and taste authentic cuisine concocted by Madelinot cooks which were born and raised by the sea.
Included in your package
: breakfast and 4-course supper. Lunch menu available at a special rate.

EVENING TABLES D'HÔTES
Every day of the week, discover our table d'hôte served with two entrées, two choices of main dishes - from the land or from the sea - and a homemade dessert.
** Prices are before taxes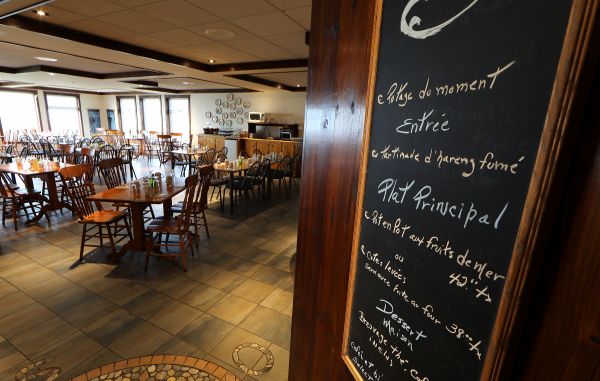 SUNDAY - Discovery Plate: Seal or Scallop Salad
SEAL SUPPER SOIRÉE

6pm - Madelinot aperitif
6:30pm - 4-course supper:
Soup of the day
Thaï shrimp appetizer
Discovery plate: seal - $48
or Scallop salad - $48
Homemade dessert
Coffee, tea or herbal tea

8pm - Guided visit of the Seal Interpretation Center
9pm - Showing of Raoul Jomphe's movie: 'PHOQUES, le film'
MONDAY (MUSIC EVENING) - Seafood Pot-en-pot or Ribs
7pm - Musical evening with the Madelinot singer Philippe Poirier

Soup of the day
Smoked Herring spread appetizer
Seafood Pot-en-pot - $42
or Ribs with Homemade fries - $38
Homemade Dessert
Coffee, tea or herbal tea