FLIGHT PACKAGE
June 1st 2019 to September 30th 2019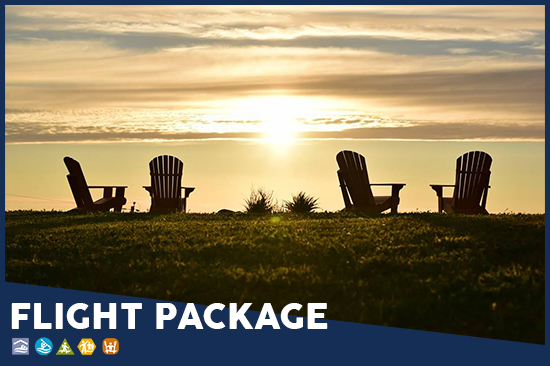 THE PACKAGE INCLUDES
PASCAN AVIATION TRANSPORTATION

Round trip flight St-Hubert or Quebec
Shuttle to and from the airport
LA SALICORNE INN

Lodging in a comfortable room
Breakfast and 4-course supper
Choice of visits and activities each day
Local transportation
TRAVEL CREDIT
With any stay of 5 nights or more, get a travel credit of:
5 nights: $25
7 nights: $50
9 nights: $75
*Per adult. Handed out onsite. Valid on the following services: restaurant, bar, guided tour of the Magdalen Islands, the cave activity and kayaking. Enjoy your trip to the Magdalen Islands!


COMING TO THE ISLANDS IS ALWAYS POSSIBLE!
July 14 to 21
Juy 26 to August 2
August 8 to 15
August 22 to 25
For more availabilities, contact us.
2019 RATES* - TAXES INCLUDED
JUNE - SEPTEMBER
JULY - AUGUST
NIGHTS
3
5
7
9
3
5
7
9
Double
$1199
$1559
$1889
$2219
$1269
$1634
$1995
$2359
Single
$1199
$1559
$1889
$2219
$1439
$1919
$2399
$2879
NOTES


*

Rates per person and taxes included. Limited seats. Contact us for triple and quadruple occupancy; special rates for kids and to extend your stay.
Toll-free number : 1-800-986-6986
E-mail : intervoy@tlb.sypatico.ca

Enregistrer