EXPLORE BY PLANE
June 1st 2021 to September 30th 2021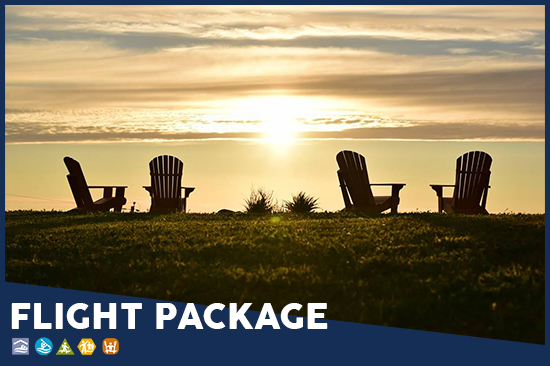 A BREATH OF SALTY AIR
Thanks to the Explore Quebec program implemented by the Government of Quebec, enjoy a discount of $ 250 + taxes on the Salicorne plane ticket.



The package includes:
PASCAN AVIATION TRANSPORTATION

Round trip flight St-Hubert (from Quebec, supplement of approx. $45)
Shuttle to and from the airport
LA SALICORNE INN

Lodging in a comfortable room
Breakfast and 4-course supper
Choice of visits and activities each day
Local transportation
TRAVEL CREDIT
With any stay of 7 nights or more, get a travel credit of:
7 nights: $50
9 nights: $75
12 nights: $100
*Per adult. Handed out onsite. Valid on the following services: restaurant, bar, guided tour of the Magdalen Islands, the cave activity and kayaking. Enjoy your trip to the Magdalen Islands!


2021 RATES* - DISCOUNT & TAXES INCLUDED
JUNE - SEPTEMBER
JULY - AUGUST
NIGHTS
3
5
7
9
3
5
7
9
Double
$1044


(Rég.$1332)

$1399


(Rég.$1686)

$1753


(Rég.$2040)

$2107


(Rég.$2394)

$1089


(Rég.$1373)

$1473


(Rég.$1761)

$1857


(Rég.$2145)

$2241


(Rég.$2529)

Single
$1044


(Rég.$1332)

$1399


(Rég.$1686)

$1753


(Rég.$2040)

$2107


(Rég.$2394)

$1262


(Rég.$1549)

$1761


(Rég.$2049)

$2260


(Rég.$2547)

$2759


(Rég.$3046)
NOTES


*

Rates per person and taxes included (rounded amount). The number of seats is limited at this rate, subject to availability. Contact us for triple and quadruple occupancy; special rates for kids and to extend your stay.
Toll-free number : 1-800-986-6986
E-mail : intervoy@tlb.sympatico.ca

Enregistrer